Saturday, April 28, 2012
Posted by

Sarah
at 5:16 PM
2 comments:

If you visit Old Sturbridge Village you can return within 10 days for free, so I couldn't pass up that offer. It wasn't quite as fun the second time since our friends weren't with us and it was quite a bit colder. But we still had a good time exploring the parts we hadn't seen before!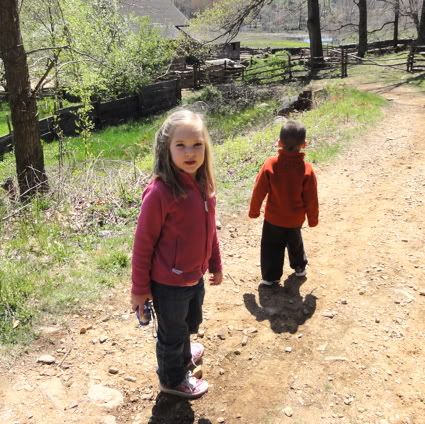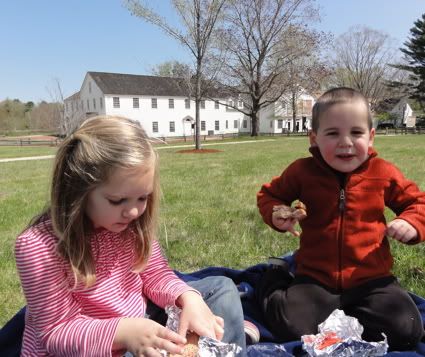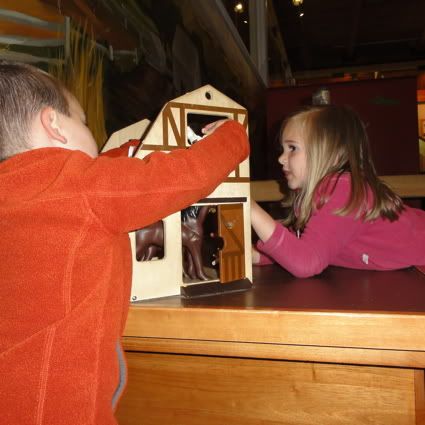 Exiting the pretend outhouse!
Posted by

Sarah
at 5:15 PM
2 comments:

Dad took the day off so we could all go to the aquarium last week. Here's Jane drinking her morning "coffee" on the train.
Harbor seals
Jane loves the stingray touch tank. Malcolm doesn't!
Sleepy Fur seals: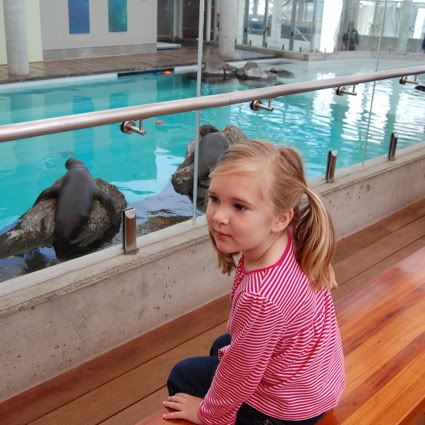 Here's Malcolm outside the restaurant where we ate lunch. He needed to leave before we were done, but you can see he's happy outside.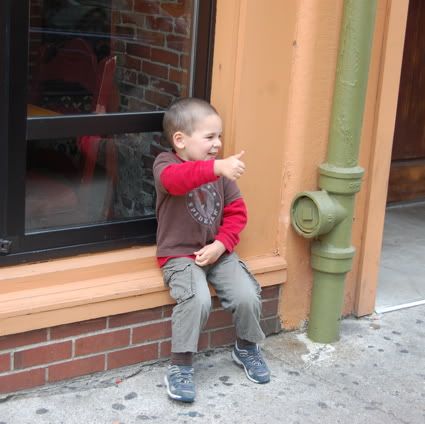 We went across the street to play on rocks and wait for Jane and Daddy.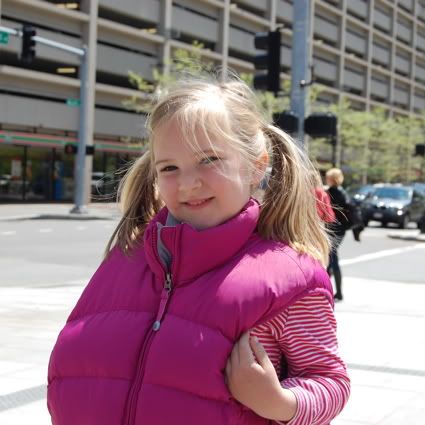 Back to the aquarium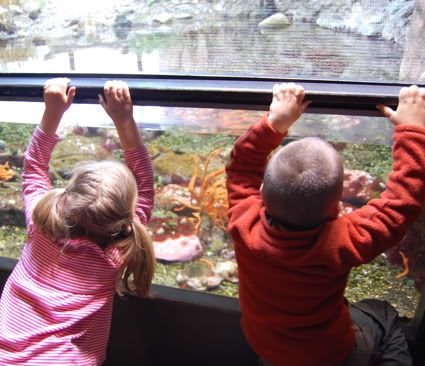 Malcolm did like this tank with the starfish.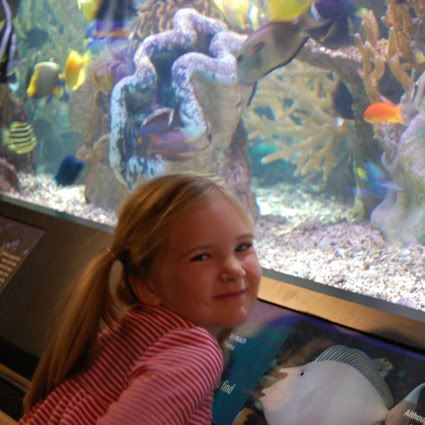 "Nemo!!!!!"
Ring around the Rosie
Posted by

Sarah
at 5:11 PM
2 comments:

Monday, April 23, 2012
I've spent part of the past few cold and rainy days knitting these tiny toys for Jane and Malcolm. The patterns are from the book Mochimochi. The kids have been obsessed with looking at all the photos and picking out what they want!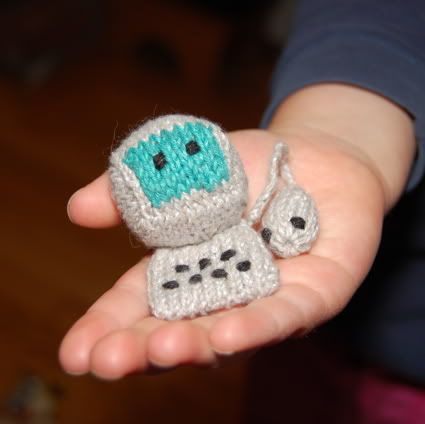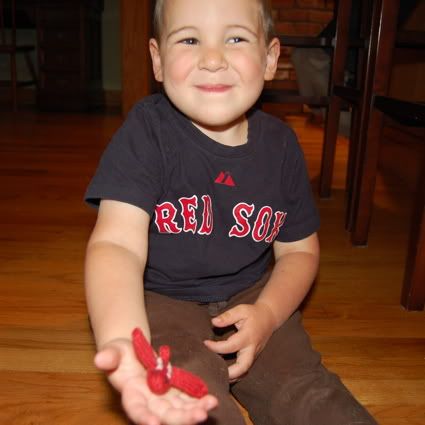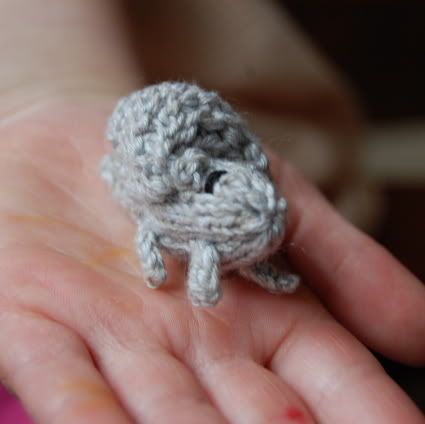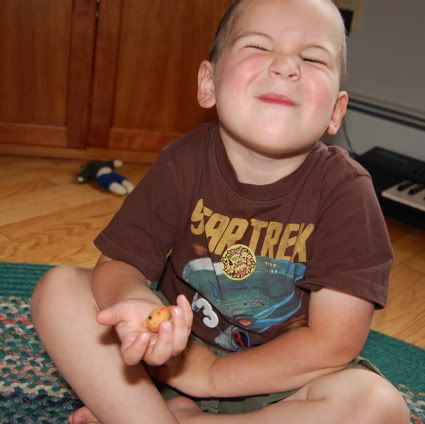 Posted by

Sarah
at 4:13 PM
2 comments:

Friday, April 20, 2012
Today we took a hike with our friends Jacob and Eliana. It was a gorgeous day!
Snacktime!
The farm just opened up a cool playground area. Jane and Malcolm were in this "cave" for quite a long time.
After lunch they watched the tractor go by.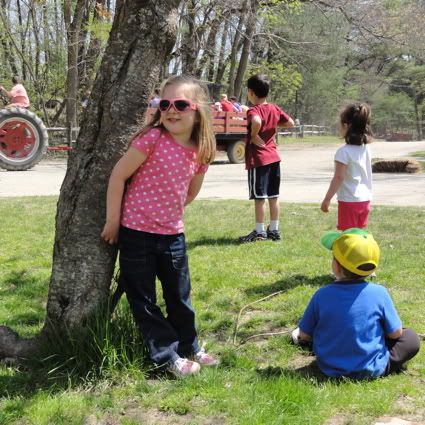 Before we left we got a close up view of a wild turkey!
Posted by

Sarah
at 2:32 PM
No comments:

Yesterday we met our friends Lindsay, Rosalie and Nolan at the MFA. Lindsay and I went to college just down the road together and we used to frequent the museum quite regularly back in the day. It was great to come back with our children! They had lots of activities for kids because of school vacation week.
First the kids sketched model ships:
Then they made collages. You can tell they were very serious about this craft!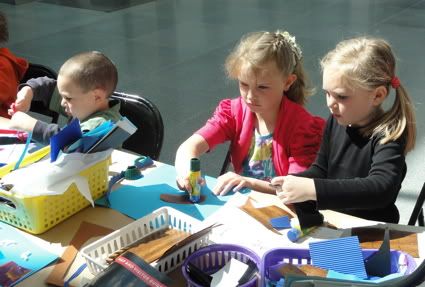 They were given bags for their artwork and they loved carrying them around.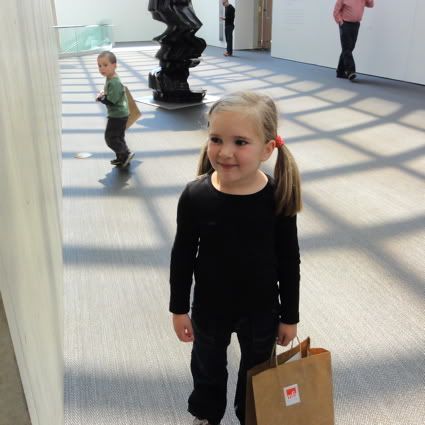 We took a break for lunch and they wanted to pose on an outdoor sculpture!
Then back to the museum to paint.
We had a fantastic time and Lindsay and I kept saying to each other that we couldn't believe how well the kids did. They actually wanted to go into the galleries to look at art, and that's something that hasn't worked too well in the past. It was an amazing day and I'm sure we'll remember it for a long time!
Posted by

Sarah
at 2:28 PM
No comments: